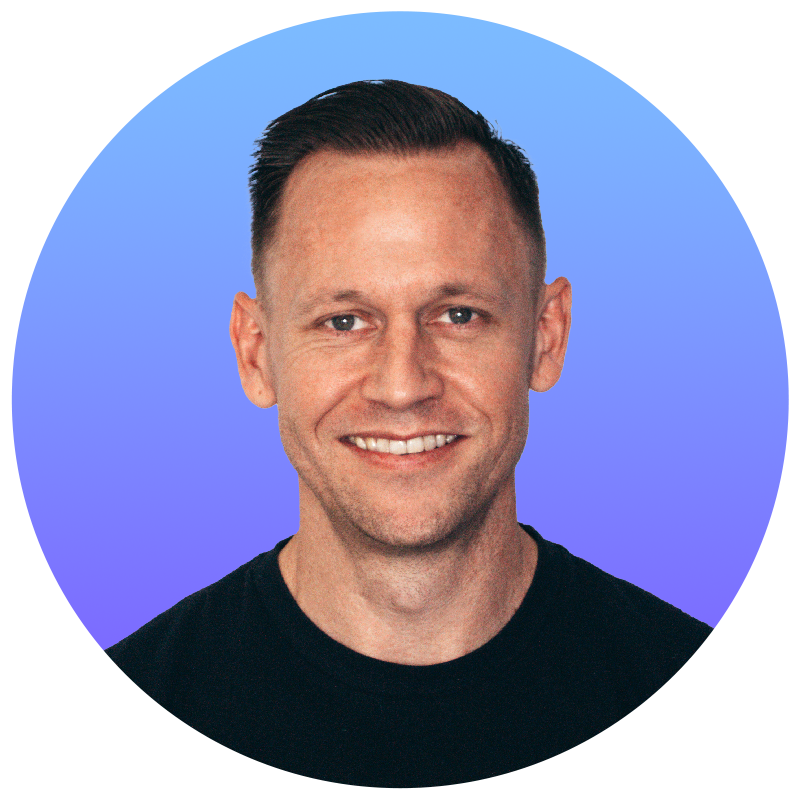 Black Friday, Cyber Monday, Small Business Saturday...the ecommerce trifecta is looming. Is your ecommerce brand ready to wow customers?
The 2021 holiday shopping season is set to break records for online spending, with a potential $207 billion in online sales up for grabs by December 31. The pending opportunity for ecommerce brands this holiday season is massive – nearly 11% larger than last year. Simply put, shoppers will place even more attention on ecommerce, shop earlier and spend more this year.
Holiday advertising that works

The secret to social success in this hot holiday advertising season is leveraging a mix of organic social media and paid advertising to reach the right customers with the right messages, right where they are. Despite the focus on paid social promotions, shoppers tend to spend more on brands they're familiar with, making organic social media an excellent marketing channel when leveraged correctly. By pairing holiday advertising with a strong organic post strategy, smart businesses are reaching more customers, increasing brand loyalty and driving sales in a purely digital manner.

Let's take a look at 8 ecommerce brands that nailed their holiday advertising and what your small business can learn from these successful campaigns.
START EARLY
Social gift guides from Third Love
Knowing that this year's holiday shopper is starting earlier than ever, Third Love launched gift guides via Instagram Stories and in-feed before Halloween. The video announcement wisely leverages the recent algorithm changes that heavily favor video content in order to increase organic reach. With supply chain woes looming, it's important to reach customers sooner than ever this year and concentrate your holiday advertising and posting earlier in the season.
LEVERAGE FOMO
Frank Body's Instagram Story campaign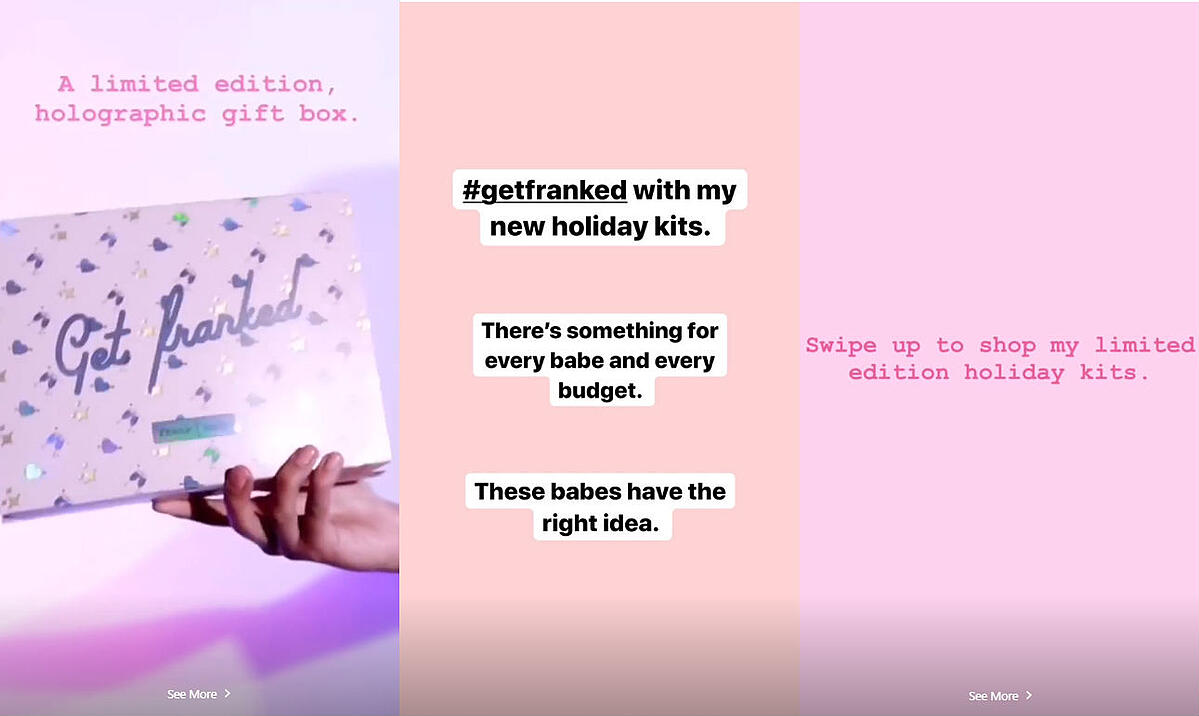 This year, shoppers are feeling the urge to shop sooner and get their hands on gifts ASAP to avoid inventory issues. Take inspiration from Frank Body's limited edition holiday promotions on Instagram Stories. The natural skincare brand relied on the limited 24-hour lifespan of Stories to create a sense of urgency around grabbing their holiday kits before they were gone by launching a new promo each day.
Over 500 million users interact with Instagram Stories every day, and 4 million businesses use story ads every single month. 50% of people report visiting a website to buy a product or service after seeing it in Stories.

RELATABLE INFLUENCER CAMPAIGNS

Rather than one large celebrity or mega-influencer partnership, smart ecommerce brands are heading into holiday advertising with today's power influencer – the nano-influencer. Typically these influencers have followings of 10,000 or less but higher engagement rates than larger influencers. Rootz Nutrition has partnered with nano-influencers like Moon and Spoon and Yum to provide branded content – photos, posts, and videos highlighting their products – leading into the holiday season. These types of partnerships can be much more impactful for ecommerce brands during the holiday season because the partnership fees are often more affordable and the content generated by these relatable personalities typically connects more deeply with their audiences, leading to more conversions.
HASHTAG YOUR HOLIDAY
Cluse

Coming up with catchy campaigns that compel fans to generate posts on your behalf is an excellent way to create a library of content for your holiday advertising. Watch and jewelry brand Cluse did just this when they launched their viral #MerryCLUSEmas campaign last year. The creative hashtag has generated more than 2,500 organic posts that Cluse can now leverage as brand photography and in-feed features. As the popularity of your campaign grows, you may also identify potential future influencer collaborations based on posts you're tagged in.
BUILD CONFIDENCE WITH REVIEWS
Butternut Box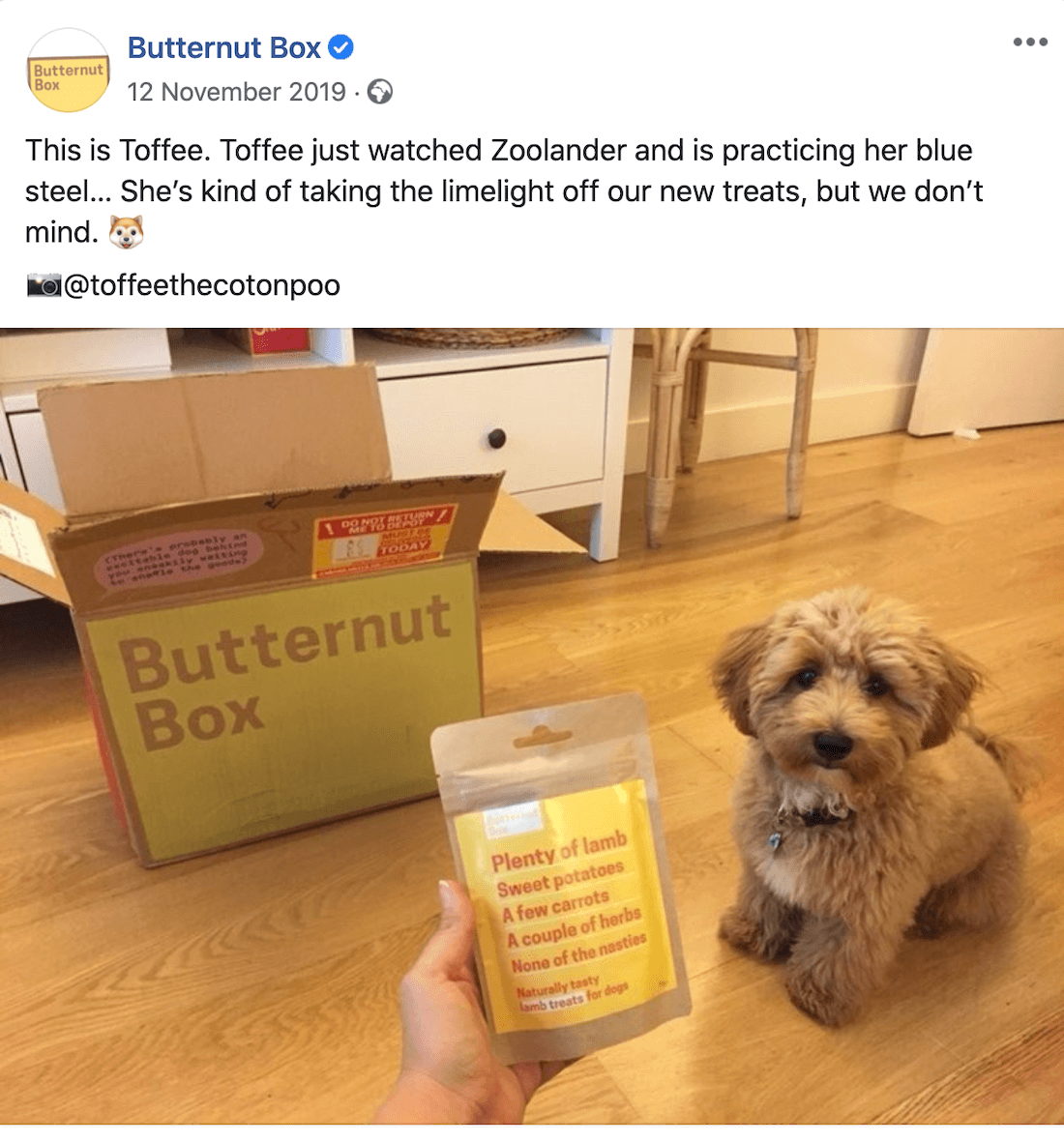 If you're actively posting and promoting your content during your 2021 holiday advertising campaign, it's likely that intentional visits to your profile will increase, too. Often, consumers will click-through on a post or holiday ad in order to learn a bit more about the company they're interested in purchasing from. Placing reviews, accolades, and reshares of happy customers' posts front and center in your feed – like this customer repost from Butternut Box – is a great way to increase confidence among potential customers.
RELY ON PLATFORM EXPERTISE
Sally Hansen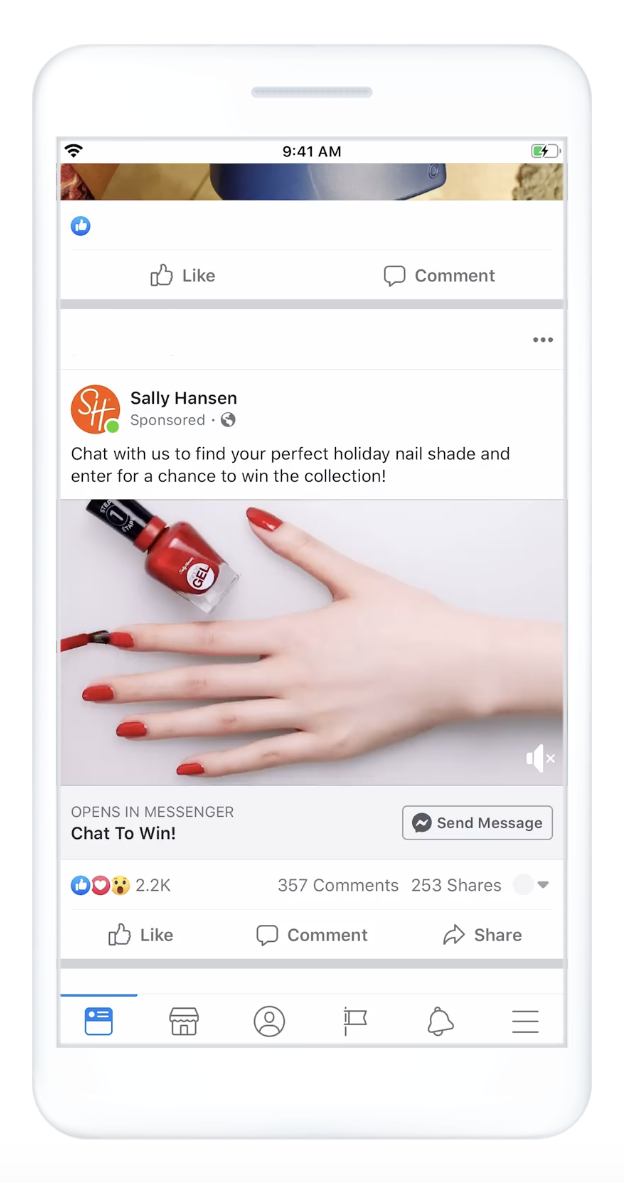 You may have heard of the Rule of 7: the theory that a potential customer is exposed to your brand an average of 7 times before making a purchase decision. This is why retargeting ad campaigns, like those available through Facebook, can be incredibly beneficial in Q4 when there's limited time to find and convert new fans. This Facebook ad by nail polish brand Sally Hansen captured 11,000 emails just 5 days before Christmas thanks to the combination of a relevant offer (holiday red!) and targeting to a "lookalike audience" in Facebook. If you haven't explored Facebook advertising as part of your social media strategy prior to this holiday season, ignoring the breadth and depth of Facebook's advertising tool for businesses is a missed opportunity.
CROSS-PLATFORM POSTING
Nickel and Suede

With more social media platforms prioritizing video posts, the pressure on small businesses to create viral video content is intense. The good news is cross-posting your content allows you to share video posts without any additional time investment. Leather earring brand Nickel and Suede began as an Instagram-based ecommerce brand and now has two flagship brick-and-mortar locations. Rather than launch their 2021 holiday catalog with multiple platform-specific assets, they've announced their new collection by posting a TikTok video to Instagram.

EARLY DEALS
Freshly Cosmetics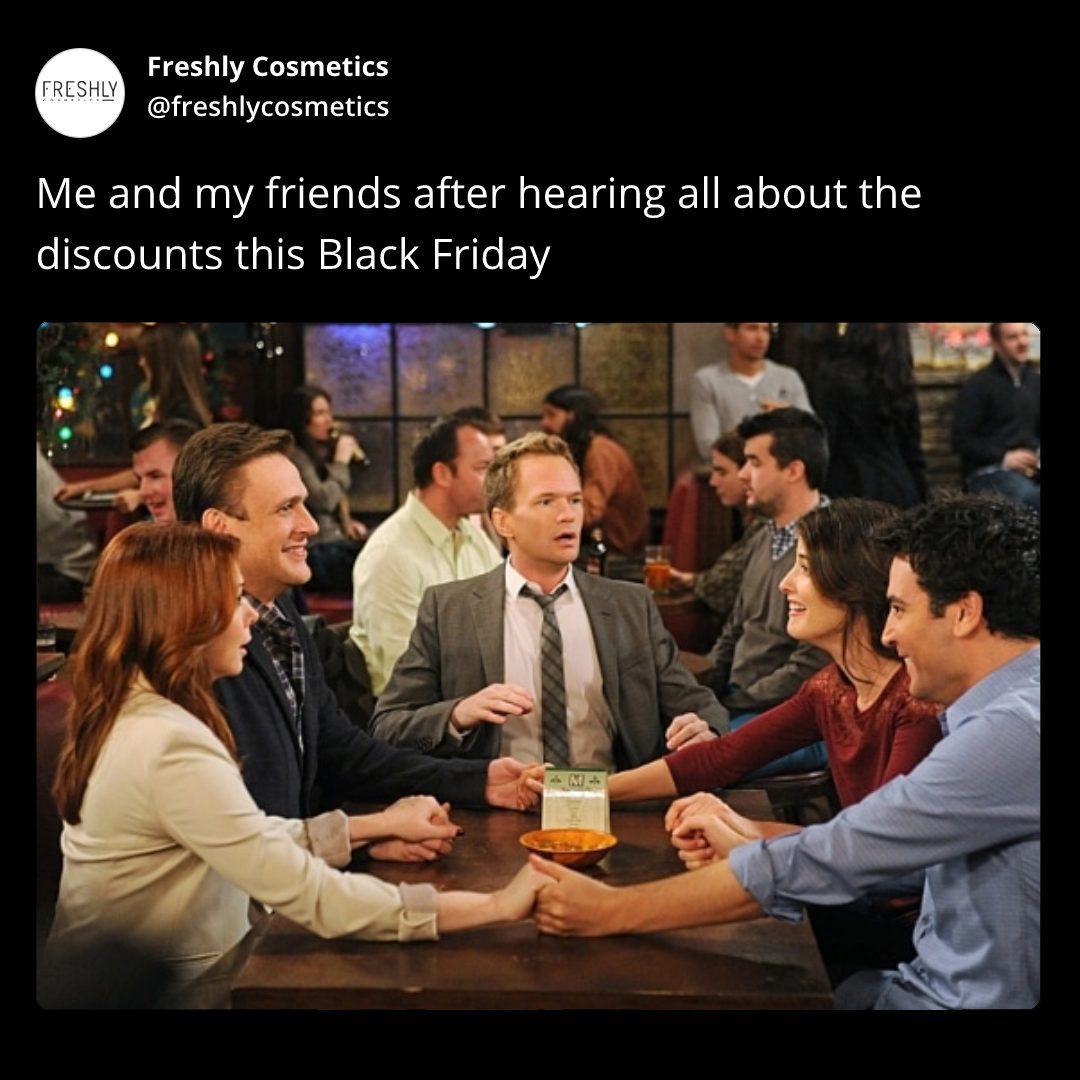 Vegan beauty brand Freshly got an early start on #BlackFriday2021 with a month-long campaign of daily deals launching November 1. With a new offer each day, Freshly is hooking up fans with limited time discounts, a sense of scarcity, and FOMO. From giveaways to gifts with purchase to deep discounts on bestsellers, launching deals earlier in the shopping season this year allows you to position your brand as the solution to inventory and supply chain woes major retailers are already facing.

Don't miss out on the early holiday shopping spree

The 2021 holiday shopping season is a huge opportunity for smart small businesses ready to jump in on these social media promotion trends and more. Joybyte's deep experience in helping D2C brands accelerate growth and sales through social savvy means their partners can rest easy knowing their holiday season is prepped, planned, and posted.

In addition to strong organic social posting strategies that increase follower loyalty and conversion, our team of social butterflies can help create a shoppable experience within your feed, using Facebook and Instagram's in-platform shopping tools. Nearly 80% of consumers used at least one Facebook app or service for holiday discovery last season. Ready to see your product at the top of everyone's wish list this holiday season? Let's get started!