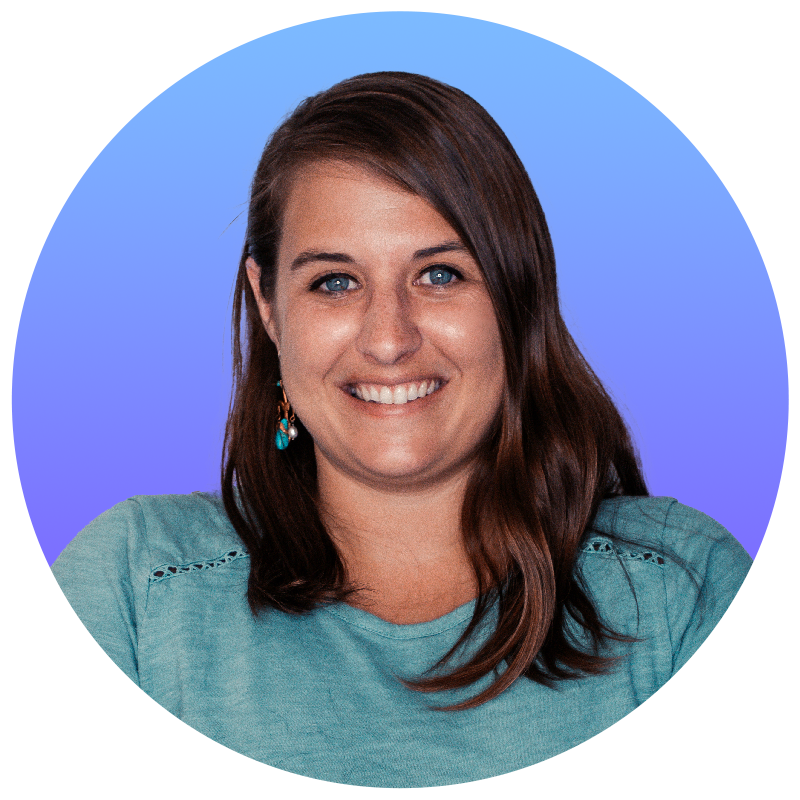 Whether you've been running a social media marketing strategy for awhile or you're just getting started, you've probably realized it's a bigger project than you initially bargained for.
Entrepreneurs and business owners have enough to worry about. Having a manual, inefficient and underwhelming social media marketing strategy shouldn't be consuming your day. If you've stumbled across this blog because it is starting to consume your day – or worse, consuming your thoughts at night – this post should provide some help.
With the help of social media marketing agencies and technology providers, your social media can start working for you – not the other way around. We know this industry pretty well so we did the hard work of identifying some of the top social media marketing companies out there, for every stage of growth (and budget). So instead of scouring the internet for answers you can get back to what matters: focusing on your customers.
Our favorite tech
One-stop marketing-shop: HubSpot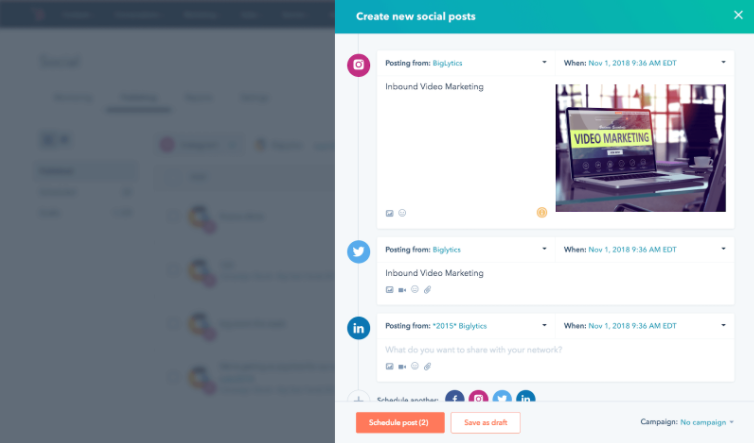 Caveat: HubSpot presents a full suite of business solutions, from customer relationship management (CRM) to content management software (CMS) and is definitely not just a social media marketing tool. However, if you're a small or mid-size business in need of a one-stop-shop, HubSpot will be your new best friend.

For the purposes of this blog post, let's take a deeper look at the social tools HubSpot provides. With this tool, you can connect multiple social media accounts and schedule as many posts as you'd like at one time. If you're posting links alongside that content, HubSpot will take the liberty of automatically shortening the link so you can track all the clicks in one spot. Don't even get us started on the analytics you'll have insight into if you're running social media from HubSpot. You can check out the full rundown of what's available here.
Scheduling extraordinaire: Hootsuite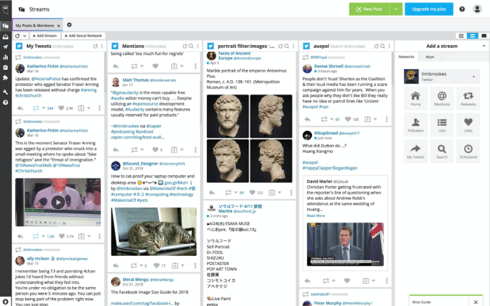 If you're looking for a meat-and-potatoes solution that won't break the bank, that's Hootsuite. Ideal for any budget, Hootsuite is the go-to technology for small and mid-size businesses who need a manageable tool that you can connect your social profiles to and schedule messages for months to come.

Hootsuite also has a few nuances that we love. With their Streams functionality, you're able to monitor any keyword, RSS feed or profile to keep a pulse on industry chatter. Another underrated functionality? The ability to assign messages and comments to other members of your team. This means that if you're using social media for customer support, you can assign incoming messages to the appropriate person on your team to handle the request. That, my friend, is what we call efficiency.
Easy automation: MeetEdgar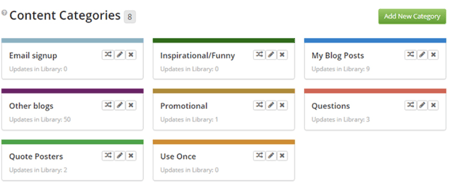 Possibly one of the most underrated social media marketing tools out there, MeetEdgar will save your life in more ways than one. If you have oodles of evergreen content that you need to consistently publish out into the world, this is your solution. MeetEdgar allows you to load in any and all social media posts you would ever want to post and schedule it on a recurring basis. For example, that article you wrote that you send to almost every prospect? Load it into MeetEdgar with a few different messaging variations and add it to the regular rotation.

What's even better? You can connect multiple social profiles to MeetEdgar, which means your corporate social profiles won't be the only ones reaping the benefits of an always-on social media strategy. Check out all the ways you can automate here.
Our favorite agencies
Big-time B2B: Sculpt
If you're in the B2B game and looking for the social media agency that can conquer anything you could ever need, check out Sculpt. They'll build social media playbooks, own your paid social strategy, manage integrations with HubSpot and even work to build your online community. You'll need a healthy budget, but if you can swing it, you're in for a treat.

Sculpt's services are modeled around attracting new leads to your website and growing your business. They understand that B2B teams have a bad habit of having tiny teams do it all, so they aim to weave themselves into the fabric of your team. Who wouldn't want an extra team in their corner managing everything they don't have bandwidth for? You can check out all that Sculpt has to offer here.
Happy medium: Joybyte
You've started the journey of social media marketing, but you're just not seeing the results you need. You might be dabbling in some social tech to get the job done, but at the end of the day, you're a small team and you've got bigger fish to fry than social media. But you know you need a killer strategy because social media is harboring your target audience.

Joybyte, the agency developing and offering premium social media strategies for businesses with byte-sized budgets, just might be able to help (hey, that's us!). Our team builds and manages every aspect of social media for businesses that are in need of an expert hand so you can get back to doing what matters most: delighting your customers. If you're a solopreneur, small business owner, or sitting on a marketing team of one, your business's brand is in your hands. If you want to see how Joybyte can take your brand and give it a facelift on social media, take a look at what we've done for others in similar situations here.
Slightly smaller: Carl Ocab Digital Marketing
So you're totally new to social media or you have a budget you can only view through a microscope. That's okay! There are ways to get the help and expertise you need without breaking the bank. One of the easiest paths to take? Outsourcing your social media strategy outside the United States.

The folks over at Carl Ocab Digital Marketing in the Philippines are helping out small businesses with tiny budgets accomplish their social media goals. Here's the best part: just because they're aren't based in the U.S. doesn't mean they don't understand what it takes to grow an American brand. These guys have a proven track record of taking weak social media presences and turning them into marketing machines. If you're interested in seeing how they can grow your social media strategy into a bustling marketing engine, check out their services here.
Our closing thoughts
If you're in the business of trying to grow your social media marketing chops, it's time to make some investments into software and partnerships. We understand the feeling of existential dread that comes along with signing contracts and spending the money you've worked so hard to bring in. But the ROI will seriously surprise you when you start taking social media marketing to the next level.

From the efficiency gains and increased levels of sanity that social media tech provides, to the expertise and peace of mind an agency brings, making investments now will pay off in the long term.

If you're serious about taking your social media marketing strategy from "just okay" to "out of this world," drop us a line. We can help.