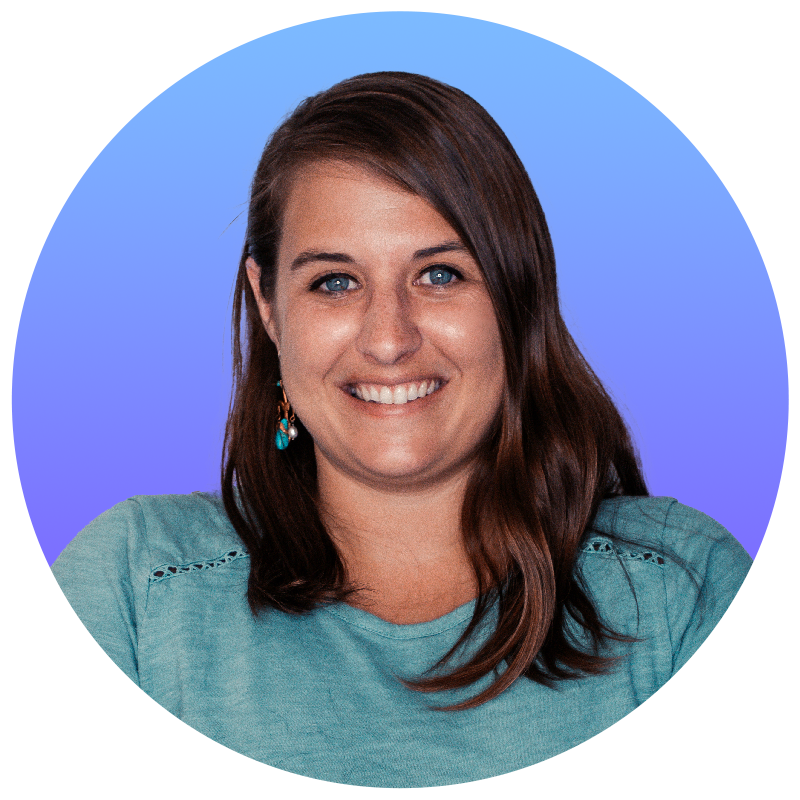 The power of user generated content can't be denied: nearly 80% of people say UGC highly impacts their purchases. User generated content is also a great way to extend your marketing budget, build your content library and create real, relatable content that drives clicks and conversions. Let's dig into some successful user generated content examples and take a look at how to make UGC work for your brand.
What is user generated content?

User generated content (UGC) is a powerful tool in any brand's social media strategy. Simply put, UGC is content that's created by fans and influencers on social media. This can include reviews, photos, and videos that are shared on an account that's not managed by the brand. Many of the user generated content examples out there are 100% organic and sourced from customers who use, love, and share a product. This purely organic content can be sourced by skimming account tags and hashtags.

User generated content examples may also be created through influencer partnerships that are initiated by a brand. Influencer marketing is an effective way to generate content and reach new audiences. If you'd like to use influencer generated media – post copy, photos, and videos – in future marketing efforts after your partnership wraps, be sure to specify these terms in your influencer contracts.
Why user generated content works
User generated content inspires trust. In fact, over 90% of customers gain confidence in an online purchase based on UGC that mentions the product or service. Because users creating this type of content aren't compensated for their posts and reviews, there's a natural authenticity to these posts that fans and followers connect with.
If there is an influencer partnership in place, this content is typically identified thanks to partnership language in the caption. These posts are still helpful, but may lag slightly behind organic content in terms of effectiveness.
Benefits of user generated content


Smart brands are leaning into the power of UGC ahead of a record holiday shopping season because it's:
Authentic. Because it's created entirely through real experiences with a brand's products and services, consumers are more than 2x as likely to view user generated content examples as authentic compared to brand-created content.


Free. Photos, videos, and reviews from fans cost nothing and can be used to build out a content library for upcoming posts.


Convenient. User generated content is ready and waiting for brands in their post comments, reviews and tagged posts.


Creative. Sometimes the best source of social content is the real life experiences people have with your products, and when you rely on UGC you'll often discover post ideas you never would have thought of.


Relatable. Real life reviews from real life customers feel super relatable to your audience and are a great way to inspire confidence in your products.


Effective. Nearly half of millennials and over a third of baby boomers trust UGC, while only 25% of both groups report feeling the same about branded content.


Helpful. You may discover brand new potential marketing angles based on how people are using your product in the wild.



The best user generated content examples
These brands are doing UGC right.
User Generated Content Example 1: Parachute Home



Cute pups are definitely an unproven way to boost in-feed engagement before you can even say "Sit!" Parachute Home relies heavily on UGC images for their Instagram feed which allows them to share their bedding and home products in an endless variety of home settings. This makes it easy for fans to see a space that looks and feels like theirs or how they'd like theirs to look.
UGC Tip: Encourage fans to use a branded hashtag, like #MyParachuteHome, on their posts to make it easy to skim through posts for new content.
User Generated Content Example 2: Ice Barrel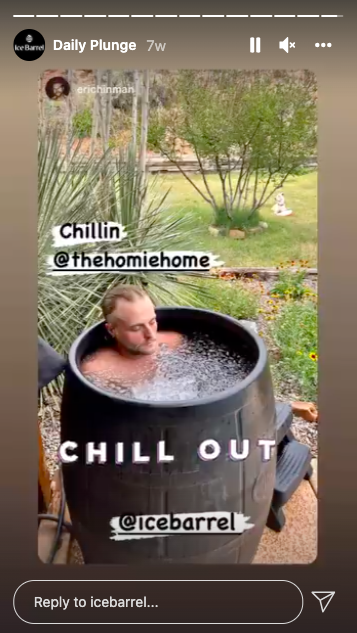 Simply skim Ice Barrel's Instagram Story highlights for a look at their library of user generated content examples. The ultra unique experience users have when using Ice Barrel – dunking yourself in a freezing cold barrel of water to achieve numerous health benefits – is scroll-stopping. Like other successful user generated content examples, relying heavily on user experiences allows Ice Barrel to show their product in many different use cases. Joybyte has activated multiple influencer campaigns on behalf of Ice Barrel to create a library of content the brand can use moving forward.
UGC Tip: Highlighting real user experiences is a great way to inspire interest and confidence in your product.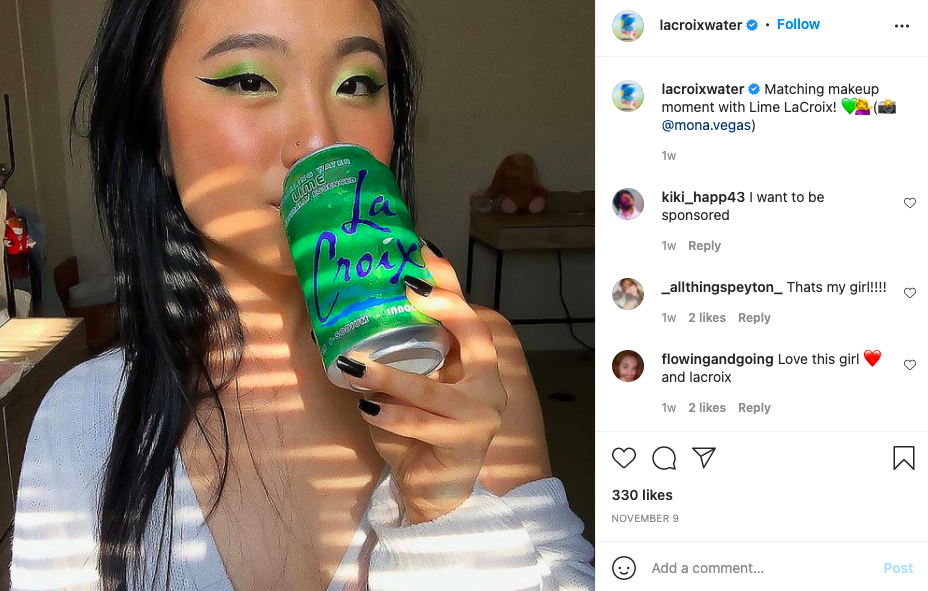 LaCroix's Instagram feed is a great example of how user generated content doesn't have to sacrifice style or authenticity. Their curated collection of posts from influencers, fans and brand photo shoots alike is an example of thoughtful curation that keeps the brand's youthful, colorful vibe front and center. While some of their UGC content is sourced from official partnerships at events like SXSW, much of it is from everyday fans who post and tag on their own accounts.
UGC Tip: Be selective when using free UGC sources. Look for the UGC content that best embodies your brand values and share it.
User Generated Content Example 4: Gigantic Candy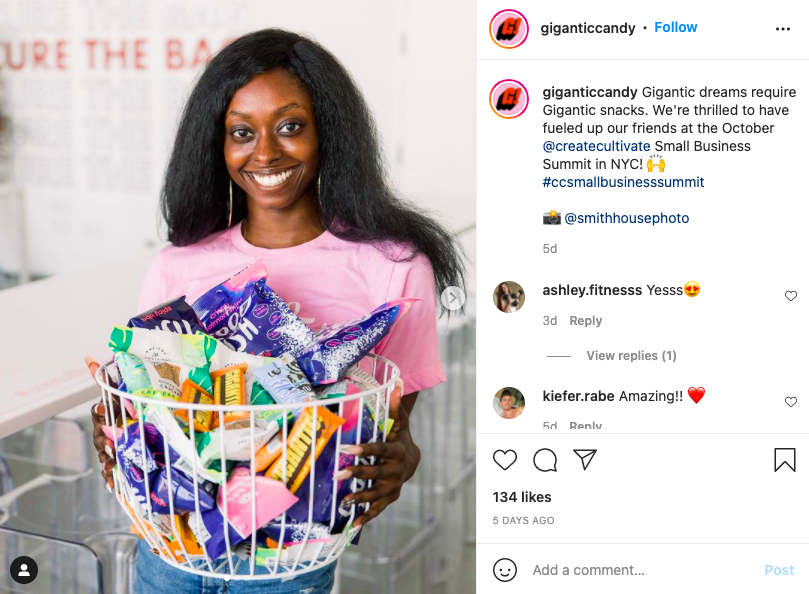 Gigantic Candy's social following isn't huge, but their reach and exposure is insanely amped up thanks to their clever partnerships. By sponsoring and establishing a presence at influencer-heavy events where photos and tags are nearly a guarantee (like Create Cultivate), the plant-based candy brand has been able to make a big splash thanks to beautifully artistic UGC.
UGC Tip: Look for an influencer conference or event happening near you – or virtually! – and secure a photo-opp based sponsorship. Be sure to include your branding in a prominent yet creative way.
User Generated Content Example 5: Elevated Craft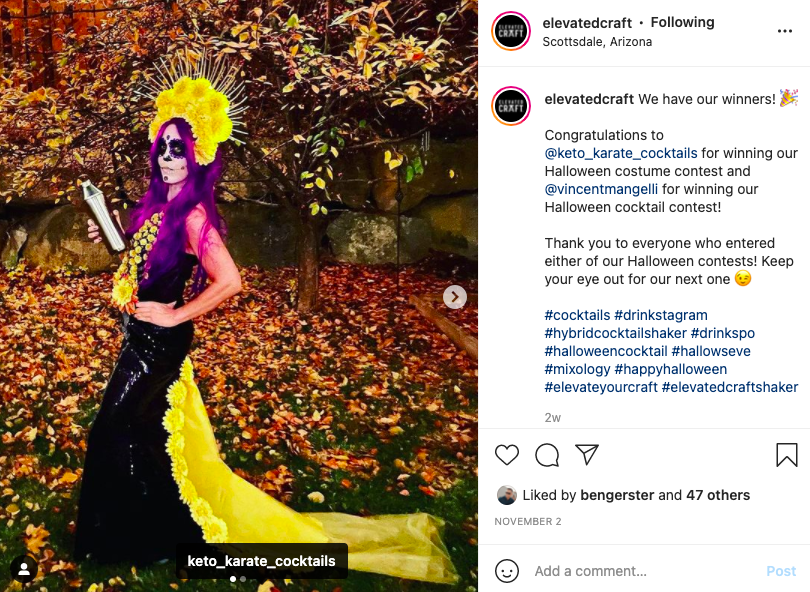 Hosting a giveaway and asking fans to share content and tag your brand is a highly effective way to generate a large amount of UGC with a small investment (whatever the prize is that you're offering). Joybyte pitched Elevated Craft on this strategy for the Halloween season, leading to a treasure trove of stylized photography the brand can use year-after-year. Encouraging fans to use and share about your product is a way to generate more reviews for your product, too, which can boost consumer confidence among new audiences.
UGC Tip: Timing is everything. If you experience a high product sales season like Valentine's Day, Mother's Day, or summer, host your UGC giveaway a couple months before that so that you can create a library of UGC ahead of time and the photos won't feel repetitive when you share them.

How to successfully create user generated content
Know your audience. Baby boomers and millennials consume social media differently so depending on your target audience, your platform of choice may change.


Consider your packaging. Since you're interested in sourcing a library of visual content, it's important that your product, its packaging, and any mailing materials are photogenic and branded.


Share your social handles widely. Clearly outline your post and tagging expectations in formal influencer partnerships and include your social handles on all packaging and touchpoints so that everyday users can easily tag and share, too.


Interact and engage. Watch for account tags and hashtag usage associated with your products and engage on these posts, videos, and comment threads. Interacting on both branded and non-branded content will organically increase your post reach which can prompt higher engagement, too.


Create a branded hashtag. It's a great way to catalog all the content users are creating on your behalf. Identify a hashtag that can be used across your social platforms with minimal to no interference. Think short, clever, and branded.



The hidden benefits of user generated content

In addition to generating user reviews you can pull from for later posts, user generated content is also a great source of inspiration and insights for you as a brand. In addition to these reviews, you'll also discover how people are using your product in their lives. You may be surprised by some of the trends you see!
Jumpstart your UGC campaign

While in-house product shoots are a valuable way to create a library of brand photography, sourcing user generated content is a great way to round out your feed, drive engagement, and reach new audiences. Coordinating a customer-facing UGC campaign, like a giveaway or photo contest, is a great way to generate UGC but managing all those posts and tags can be time-consuming.

Working with a social media expert like the teams at Joybyte can help you accelerate your UGC journey with zero headaches. Our experience managing influencer relationships, product marketing, and organic social media means you'll get a comprehensive content development plan that ensures your brand is represented well and the UGC created on your behalf is useful in the long term. Contact us today to kick off your UGC campaign.