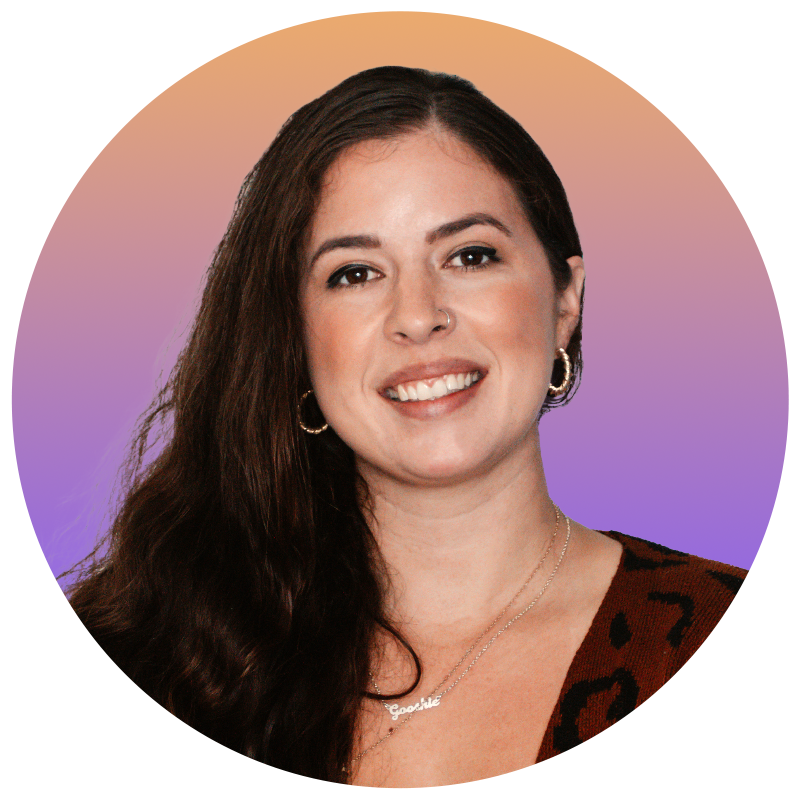 You're one person. You run a small business. You market that small business. Oh, and you create, manage and execute that small business's entire social media strategy. If you're not already exhausted, you will be soon.
Especially if you're doing all of your social media tasks manually. It's time to make an investment in a few social media marketing tools that will make your life less stressful and up your social game like you never thought possible.
As a social media marketing agency, we know what works best for small businesses that need to get shit done. Here's a list of some of the best tools we typically recommend to our clients that you get to take advantage of for free.
Best social media marketing tools
Social media scheduling tool: Falcon.io

First things first: Stop posting all of your social content by logging into each platform and hitting "create post." It's time to be an efficiency hero and get your hands on a social scheduling tool that allows you to draft and schedule all social media posts in one place.

A really cool one is Falcon.io. Dubbing themselves as the platform for every kind of social media marketer, Falcon.io not only allows you to create and schedule content across all social channels, it also allocates specific posts to over-arching marketing campaigns, runs social ads, creates customer profiles and even makes content recommendations based on AI.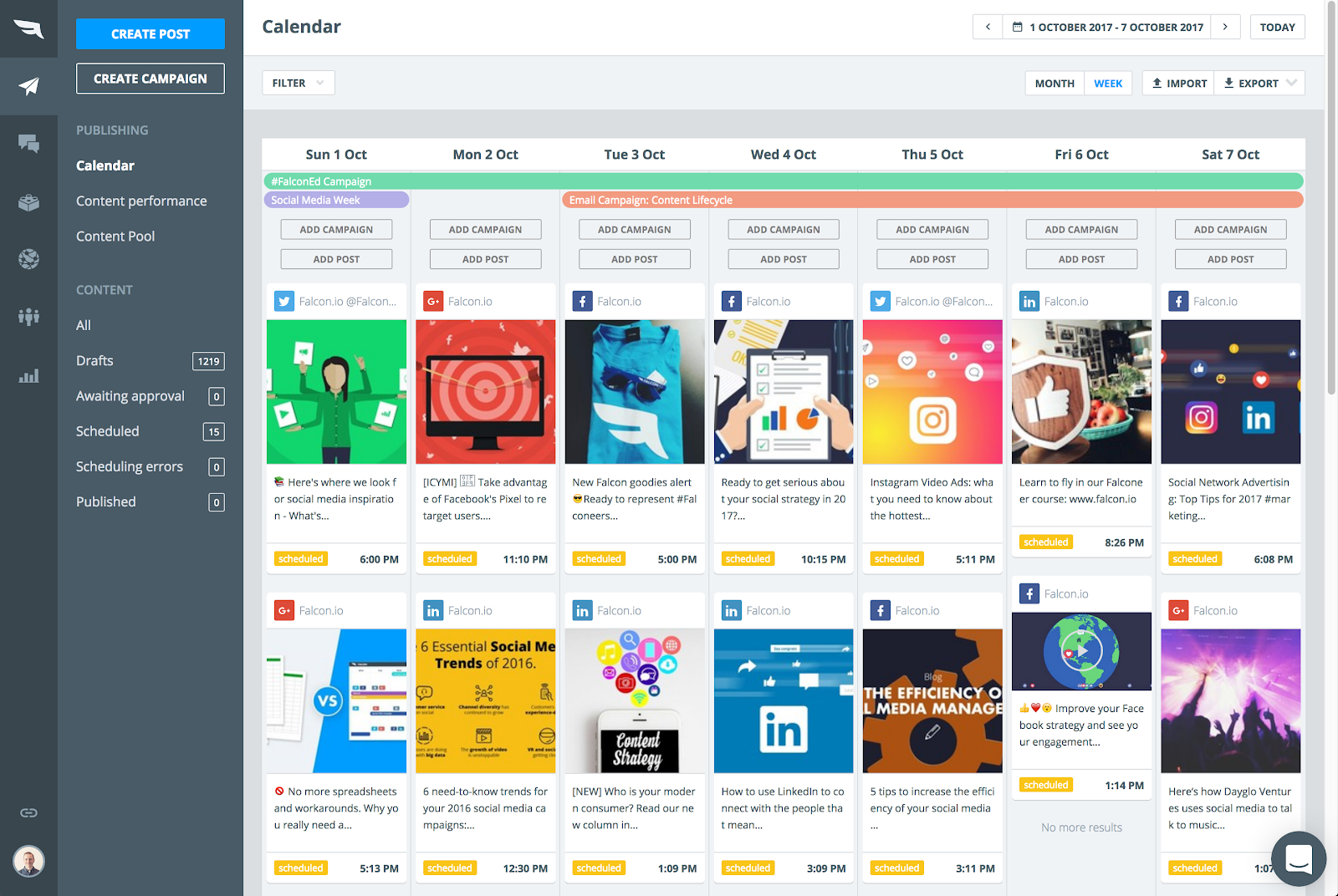 If you really want to understand the benefits Falcon.io creates for businesses, check out what their customers are saying on software review site G2. If we sold you and you're ready to go buy it, Falcon.io will run you about $129/month.


Social media graphics: Canva

If you haven't heard us say it already, we freaking love Canva. It's seriously one of the best social media marketing tools because it allows users to create swoon-worthy graphics that you think came straight outta Photoshop.

Canva comes loaded with templates that are pre-sized for any social media network – even Instagram stories.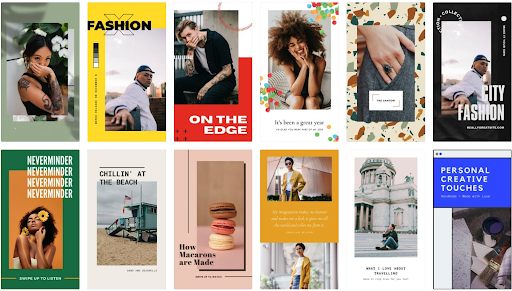 The best part about Canva? It's free for a basic account. So just start using it and make your social media visuals the stuff dreams are made of.


Content curation:

Scoop.it

One rule we always tell our clients to abide by on social media is the 80/20 rule. This means that 80% of the content you share on social media should be industry-relevant content and the other 20% should be original content that links to your website. Why do we suggest this? Because no one wants to be sold to every time they scroll through social media.
However, we realize that cultivating a healthy list of curated content by hand is no small feat. You're constantly combing through Twitter lists, hashtags and RSS feeds looking for the right stuff to share. Why not let a technology platform do that for you?
With Scoop.it, you can plug in relevant keywords and receive an ever-updating list of news articles and blog content that you can share from your connected social media profiles. This means all the quality content in half the time.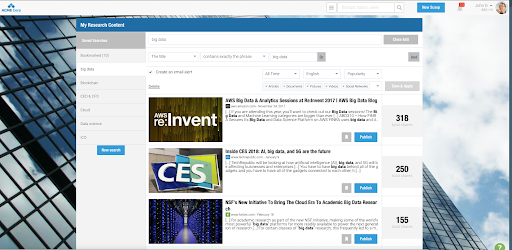 If you can't wait to start curating the content your audience actually wants to read, you can get Scoop.it for about $14.99/month.
Social media automation:

MeetEdgar

If you really want to up your efficiency game, MeetEdgar is the social media marketing tool you need to get right now.
Here's how it works: Compile all of your evergreen content (blogs, guides, articles, even some videos that don't cover super timely topics). Then, create social posts for each piece – one for each social media network and maybe a few different variations of each. Associate it with a category, select what social account you want to share it and then create a schedule of when you want MeetEdgar to make posts.
This allows you to take back your time and only worry about scheduling your most current content on your other social scheduling tool. It's the ultimate "set-it-and-forget-it" tool that you won't be able to live without. According to MeetEdgar, their customers are saving 8 hours a week managing their social media presence. Think of everything you can do with those hours.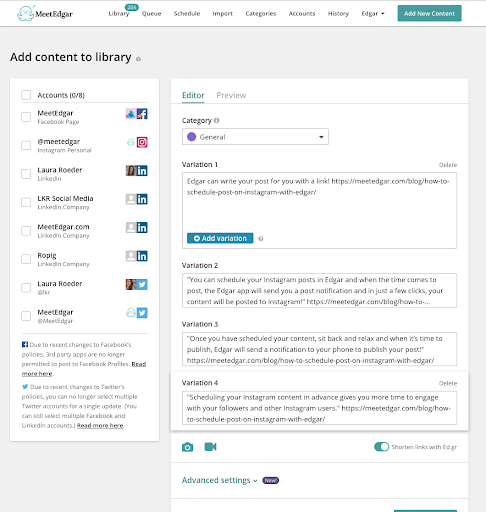 For $19/month, you can't afford not to start using MeetEdgar.



The only way you're going to optimize your social media marketing presence is if you know what's working. Likes, follower counts and social network-level analytics are only giving you half of the story. The other half – arguably the more important half – is how your social media is driving traffic to your website.
When you connect Google Analytics to your small business's website, social media traffic isn't the only thing you'll see. You'll get all the nitty-gritty details on how many visits you have to any page, how long people stick around on each page and insight on how they got there in the first place.
We'll admit: Google Analytics can be intimidating at first and there's definitely a learning curve. Luckily, there are countless resources and blogs to help you get the hang of it.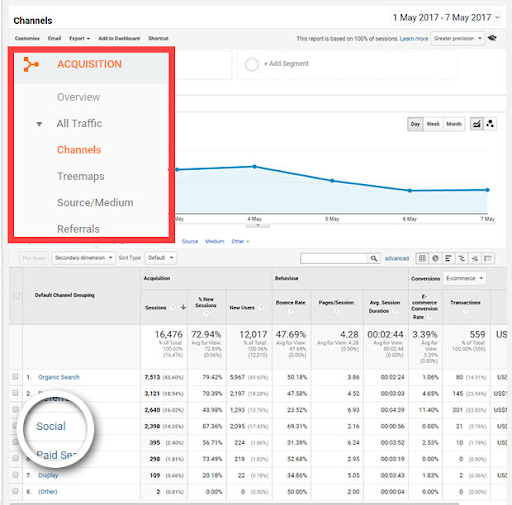 When you understand how your website visitors are arriving, you can start optimizing your content to keep them coming back. You might even find that one social media network produces most of the traffic. The best kinds of decisions are data-driven, and Google Analytics is your golden ticket to making them.


Do more, faster

You've got a lot to worry about for your business. Stressing over social media shouldn't be one of them. With an arsenal of tools at your fingertips, you can set yourself to have a stronger social media presence that creates a more engaged audience in half the time.
You're not going to win any awards for doing it the hard way. It's time to make a couple investments in your strategy and get the social media marketing tools that are going to make a real, measurable difference.
And if the tools aren't enough and you need an expert partner to handle every step of your social media marketing journey, we should probably talk.